Key facts about mesothelioma
Knowing the key statistics about mesothelioma can help you better understand this rare disease, make informed decisions about your health and help spread awareness.
Mesothelioma is caused by exposure to asbestos.
It accounts for less than 0.3% of all cancer diagnoses in the country.
There are four types of mesothelioma: pleural, peritoneal, pericardial and testicular. Pleural is the most common type, and accounts for about 75% of all mesothelioma cases.
Of all people who are severely exposed to asbestos for long periods, 2% to 10% develop pleural mesothelioma.
Symptoms of mesothelioma usually do not appear until 20-50 years after exposure to asbestos, that is, when the tumors grow and spread.
The average life expectancy for mesothelioma patients is 12 to 22 months.
Who gets mesothelioma?
The typical patient for mesothelioma is a male over 65 years of age with a blue collar or military background. However, anyone with a history of exposure to asbestos is at risk.
Occupations with the greatest risk of exposure to asbestos

Building
fire fighting
manufacturing
chemical refining
Power generation
Shipbuilding
Military service
Demographic factors in the incidence of mesothelioma
The incidence of mesothelioma describes the risk of developing mesothelioma cancer. Since men are exposed to asbestos more often, they are 4.6 times more likely to develop mesothelioma. More than 90% of all diagnosed patients are white. Hispanics are diagnosed more frequently than blacks or Asians.
Incidence of mesothelioma by sex
Incidence of mesothelioma by race/ethnicity
The risk of developing mesothelioma is 10 times higher for people over the age of 60 than for people under the age of 40.
Latency period of mesothelioma
The gap between the first exposure to asbestos and the onset of symptoms is called the latency period. Symptoms of mesothelioma usually appear 20 to 50 years after exposure to asbestos.
Average latency periods by type of mesothelioma

Pleural mesothelioma: 30 to 60 years
Peritoneal mesothelioma: 20 to 40 years old
Mortality and survival rates from mesothelioma
Mesothelioma is a complex disease, and few doctors have experience diagnosing and treating it. Mesothelioma specialists offer patients the greatest hope.
The death toll from mesothelioma

From 1999 to 2015, a total of 45,221 Americans died of mesothelioma.
Approximately 80% of these deaths occurred in men.
About 37% of the deaths were people between the ages of 75 and 84.
Mesothelioma mortality rate by state, 1999-2015
Survival rates for pleural mesothelioma by stage at diagnosis
Doctors classify mesothelioma cases into stages to describe how far the cancer has spread. The stage of mesothelioma at diagnosis affects the patient's treatment options and prognosis.
Mesothelioma-stage survival time
| stage of mesothelioma | average stay time |
| --- | --- |
| level 1 | 22.2 months |
| The second phase | 20 months |
| Stage 3 | 17.9 months |
| The fourth stage | 14.9 months |
source:
Chest Oncology Journal, 2016
The Surveillance, Epidemiology, and End Results (SEER) Program of the National Cancer Institute tracks 5-year survival rates for pleural mesothelioma by three groups: local, regional, and distant stages.
5-year survival rates for pleural mesothelioma
| SEER stage | 5-year survival rate |
| --- | --- |
| All stages of SEER | 10% |
| localized | 18% |
| regional | 12% |
| far | 7% |
Demographic factors in mesothelioma survival rates
Research shows that the survival rate for women with pleural mesothelioma is three times higher than that of men. One 2014 study reported that 13.4% of women survive five years after treatment, compared to only 4.5% of men.
The one-year survival rate is about the same for all races. From three years onwards, survival is slightly worse for whites.
5-year survival of mesothelioma by race
In general, younger mesothelioma patients have a significantly higher survival rate than older patients. More than 50% of patients diagnosed before age 50 live for one year, while less than 33% of those 75 or older live for the same length of time.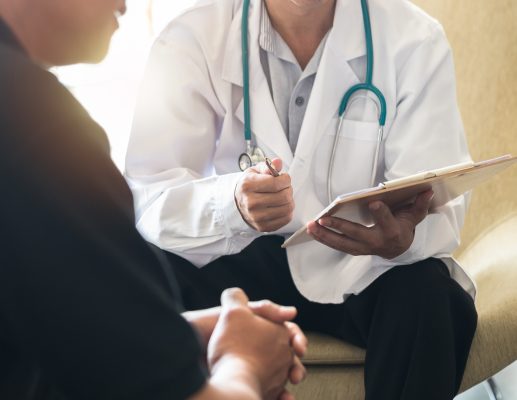 Find the Best Mesothelioma Doctor
Access the best Mesothelioma Doctors and get help making appointments.
Where does mesothelioma occur?
Most cases of mesothelioma occur in the pleura, which is the tissue lining the lungs. About 20% of cases appear in the peritoneum, which is the lining of the abdomen.
In 1% of cases, the cancer forms in the pericardium, also known as the lining of the heart. Less than 1% of cases are in the tunica vaginalis, which is the lining of the testicles.
Mesothelioma survival rates by site
Medical advances have made treating peritoneal mesothelioma easier than treating pleural mesothelioma. A 2015 study from Translational Oncology revealed a significant difference in survival rates.
Symptoms by location
Mesothelioma symptoms vary, depending on where the cancer formed. Diagnosing mesothelioma can be challenging because early-stage symptoms are usually mild or nonexistent.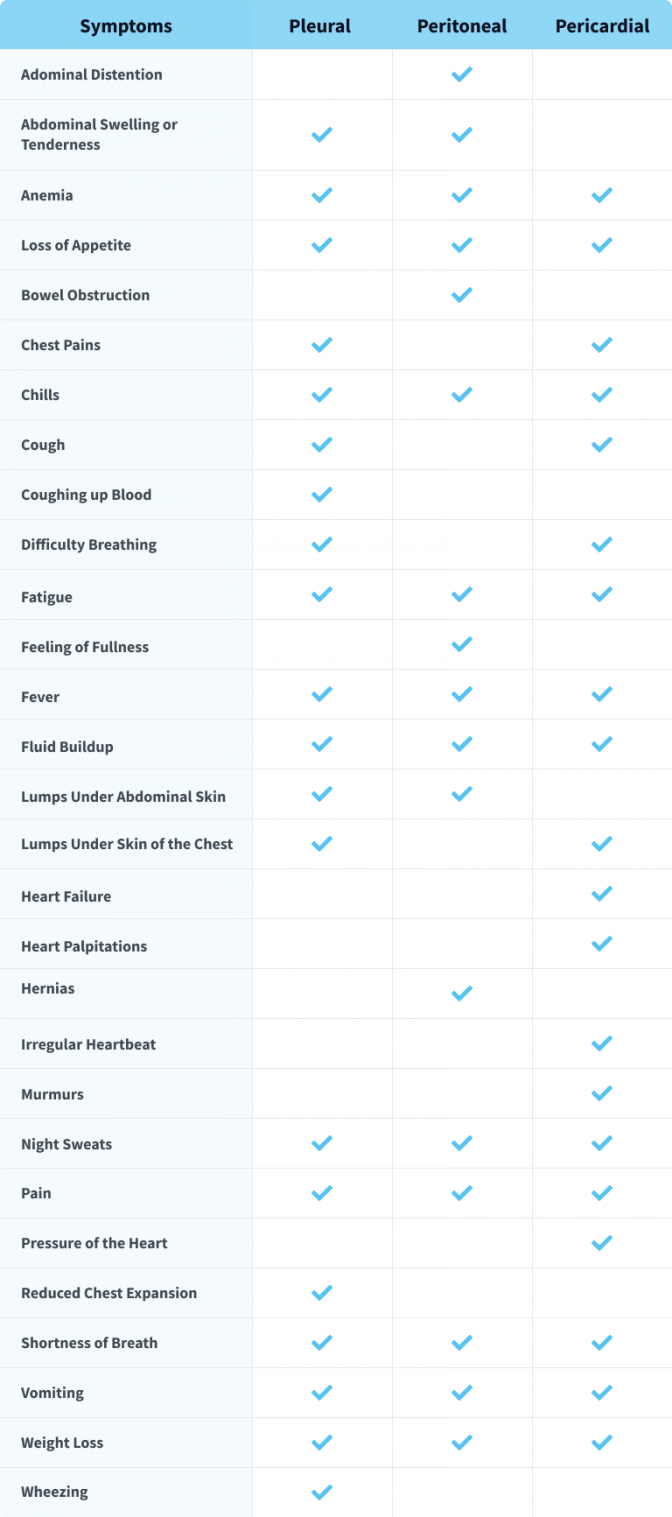 Cancer treatment benefits
Mesothelioma treatment may include surgery, chemotherapy, and radiation therapy. Patients can also enroll in clinical trials to try experimental treatments such as immunotherapy.
Key stats about mesothelioma treatment

More than 80% of patients receive chemotherapy, which is the most common treatment for mesothelioma.
A 2016 study that collected SEER data showed that chemotherapy tripled the survival rate for patients diagnosed with pleural or peritoneal mesothelioma.
Less than 20% of pleural mesothelioma patients are eligible for lumpectomy surgery.
Half of peritoneal mesothelioma patients who undergo HIPEC surgery live longer than five years.
Research has shown improved survival with multimodal therapy, an approach that combines two or more treatments.
A 2018 study presented at the 8th Annual European Lung Cancer Congress showed that the combination of surgery, chemotherapy, and radiotherapy produced an impressive one-year survival rate of 79.6% for patients with pleural mesothelioma.
The combination of surgery and chemotherapy is also effective in treating peritoneal mesothelioma. A 2018 study by the International Journal of Hyperthermia showed that the median disease-free survival was approximately five years for peritoneal patients undergoing HIPEC surgery, which combines conductive cell surgery with hot chemotherapy. The overall median survival of patients in the study was more than eight years.
Only about 20% of patients with pleural mesothelioma are eligible for lumpectomy surgery. For the rest, doctors are testing experimental drug regimens, including immunotherapy drugs already used to treat lung cancer.
Immunotherapy drugs for mesothelioma are being tested

pembrolizumab (Ketruda)
nivolumab (Opdivo)
ipilimumab (Yervoy)
CRS-207
WT1 . Vaccine
Human studies, called clinical trials, give patients access to the latest breakthroughs in treatment. Researchers have conducted more than 300 clinical trials of mesothelioma treatment worldwide.
Mesothelioma costs and compensation
Costs: $60,000. Statistics from the National Cancer Institute put the cost of lung cancer treatment at more than $60,000 for the first year. Mesothelioma treatment costs are comparable.
Claims: $180,000. RAND estimated the median value of mesothelioma claims at $180,000 in a 2010 research report. A 2019 analysis by KCIC consultancy shows that 2,087 mesothelioma lawsuits were filed in 2018.
Funds: $30 billion. In 2016, the RAND Civil Justice Institute reported that asbestos bankruptcy funds held a total of more than $30 billion. These funds have paid claimants nearly $20 billion since the late 1980s.