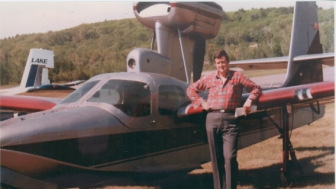 Mesothelioma survivor Daniel McCarthy has better things to do than sit at home crying about his future with pleural cancer. The sky is still his limit.
An energetic McCarthy recently flew a Boeing 737 that nearly landed at Paro International Airport in the South Asian country of Bhutan on what is said to be the world's most dangerous runway. His performance was flawless.
Earlier this month, he flew flights to Cork, Ireland; Anchorage, Alaska; Kangerlussuaq, Greenland; and Hong Kong.
At the age of 82, he is traveling the world again – in his own unique way – and loves every minute of it.
McCarthy does this through Global Flight Adventures, a state-of-the-art flight simulation center near his home in Boston. It places it in the flight deck where every gauge, switch, knob and lever operate just like a real airplane. The multi-ballistic vision system provides incredibly realistic simulation, from take-off to landing.
As a former pilot, McCarthy is nearly back at his job, and elated at it, even after his cancer relapse and the first round of his last treatment.
"I can no longer drive in real life because of my medical condition, but it's a real rush for me with this simulation," McCarthy told Asbestos.com's Mesothelioma Center. "You'll never leave Earth, but it's as real as you can get. It's the kind of thing that keeps me going, keeps my mind working. It keeps me alive."
Recurrence following aggressive surgery
McCarthy was diagnosed with pleural mesothelioma, a rare, untreatable cancer in 2017. He underwent a severe surgery performed by specialist Dr. Abraham Lipenthal at Boston Virginia Hospital.
He almost died in the operating room. His recovery was brutal and slow. The incurable cancer returned. Still, McCarthy remained surprisingly optimistic.
"I think we know there is not going to be a real happy ending here. With this disease, you never know when the next shoe will fall on your head," he said. "So, I just go from day to day, and don't worry about it. If you're worried about dying, you're deep [crap]. I used to fly planes, and I almost died a few times already."
McCarthy grew up in Ireland. He vividly remembers that he nearly died at the age of six when – unable to swim – he fell from a boat dressed in church clothes on Sunday and quickly sank to the bottom of the river. He was only saved because his two young friends were good swimmers and quick-thinkers.
"I went down quickly, it was dim," he said, "but I never saw any bright lights or golden gates." "They revived me, brought me back to life. We went home and never told my mom what had happened. So, I knew at a young age what death was."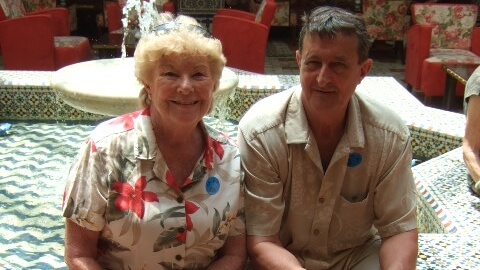 Living life to the fullest
McCarthy immigrated to the United States at the age of 21. He began working as a carpenter in Boston before joining the army, where he spent the next three years, mostly with the 4th Armored Division in Germany.
He worked as an aircraft mechanic, then attended flight school and became a private pilot for a passenger plane, which is the life he loved. Always looking for another adventure, McCarthy returns to school in middle age and becomes a registered nurse. He spent several years in this profession, devoting his life to helping others.
At least one of his professional interests led to exposure to asbestos, which led to a diagnosis of mesothelioma many years later, which led to his retirement.
"My wife, Barbara, who is a nurse, we were walking on a beach on Martha's Vineyard one day, said I got short of breath, and I thought no way, it's impossible," McCarthy said. "I work out every day, go to the gym, and do the treadmill. It convinced me, though, to see a doctor, and it basically saved my life."
After several tests, McCarthy was diagnosed in the relatively early stages of pleural mesothelioma, making surgery a viable option.
"It was a huge shock to me when I heard the diagnosis. I didn't understand what mesothelioma was, except that it can kill you in a hurry," he said. "Dr. Lebenthal was awesome. Doesn't pull punches. He saved me, but the actual surgery was horrible. The surgery beat me hell. My head bulged out like a cardboard balloon, like I was a bunny with myxoma."
The surgery was followed by chemotherapy and radiation, which slowed him down, but didn't stop him from pushing him to stay busy. He walks daily, reads a lot and writes about his adventures.
"You can't spend your time thinking about death and the things going on inside of you. Let the doctors take care of this problem," McCarthy said. "I was telling people, 'Find a way to stay positive.'"
Staying active helps the survivor stay positive
McCarthy feeds trout in the pond near his house every morning. He gets a weekly massage. He spends a lot of time in the flight simulation center.
He said, "I'm in my neck busy." "I really think it can help a mesothelioma patient survive. You can't just sit around and die. Staying busy helps you stay healthy."
McCarthy also strongly believes in Chinese herbs as a healthy product, and consumes them regularly.
"I don't know what my future holds," he said, "but I no longer sit around and worry about it."
Much of October was spent recovering from pneumonia. His latest CT scan also revealed a new tumor growing in his right lung, which is very close to his heart.
McCarthy recently started CyberKnife, a state-of-the-art radiosurgery system that delivers high-intensity radiation to directly target tumors.
He's also scheduled his next Boeing 737 flight — he's piloted a South American flight with stops in Rio de Janeiro and Valparaiso that includes two more challenging runways to land.
"I'm not afraid of death," McCarthy said. "When I do, I will meet all my old friends and have a bachelor session. It will be another adventure for me. But in the meantime, I have a lot of places to go and things to see."
Mesothelioma Free Guide
Get answers to all of your mesothelioma questions